Zebra ZM400 Ribbon Out Error
Zebra ZM400 Ribbon Out Error
If your Zebra ZM400 printer is displaying an error on the LCD screen stating there is a Zebra Zm400 Ribbon Out Error there are a couple things at which we can take a look to remedy this situation.
Simply, and in most cases, the ribbon spool has run out and needs to be replaced. If this is the case then it's pretty easy to spot. The first thing we will do is open the media door of the printer and locate the ribbon supply spindle. When looking inside the printer there will be 2 spindles towards the top and in the middle of the printer. The smaller of the 2 spindles is the ribbon supply spindle. If you see a cardboard core of a spent roll of ribbon then it's time to replace the roll.
To replace the ribbon, first open the printhead and remove the old, spent spool as well as all the excess that has accumulated on the take up spindle and discard. Look for raised lines on the inside wall of the printer for the intended path of the media. Follow these lines/arrows to guide the installation process. Next, install the new ribbon spool so that it is rotating clockwise and the leading edge comes off from the bottom of the spool. The leading edge of the ribbon will then pass through the printhead and pulled upwards and towards the rear of the printer to the larger of the 2 spindles, called the take-up spindle. Wrap the excess around over the top of the take-up spindle several times and then rotate the spindle clockwise until the excess is wrapped snug to the spindle. Lower the printhead and press the pause button, The printer should then begin a short calibration process and stop on the tear line. You're ready to print!
If you're receiving the Ribbon Out Error and there is still ribbon remaining on the spool then it's possible the ribbon sensor has malfunctioned. Follow the links below for a free quote on all your ZM400 repairs!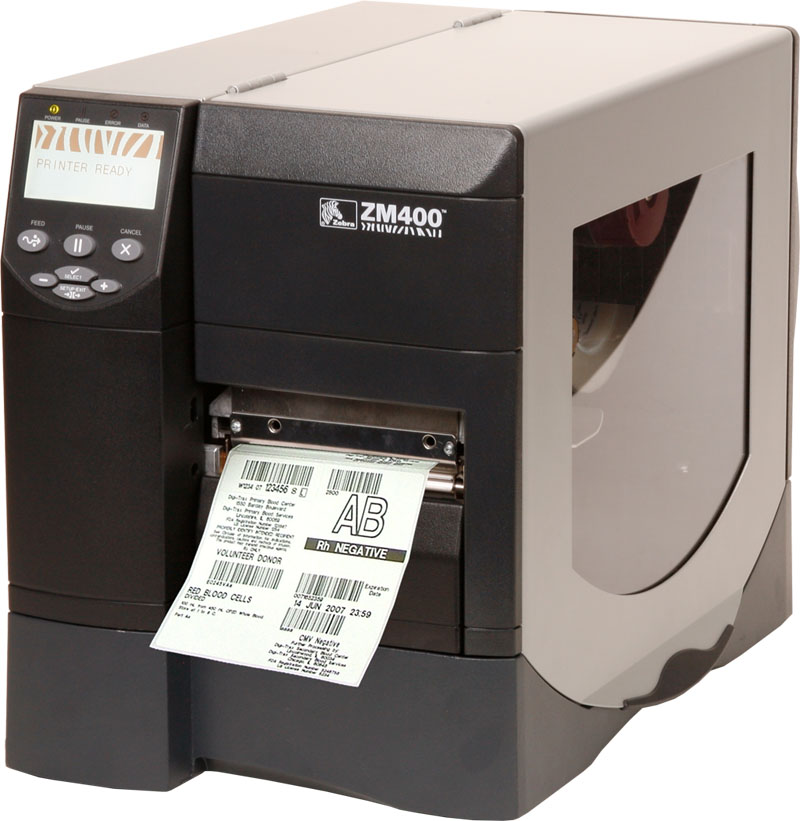 Zebra ZM400 Ribbon Out Error
If this didn't solve your Zebra ZM400 Ribbon Out error for your Zebra printer, visit one of our other printer repair pages:
Did this help with your Zebra ZM400 Ribbon Out Error? If not, please see below and contact us.
If you have barcoding questions or are having problems, please fill out this form to have us contact you, or call 888-317-3440 to arrange a free consultation. We also offer new and refurbished Barcode equipment.
See more on Barcode Repair and how to buy used barcode products.