Zebra ZT230 Barcode Printer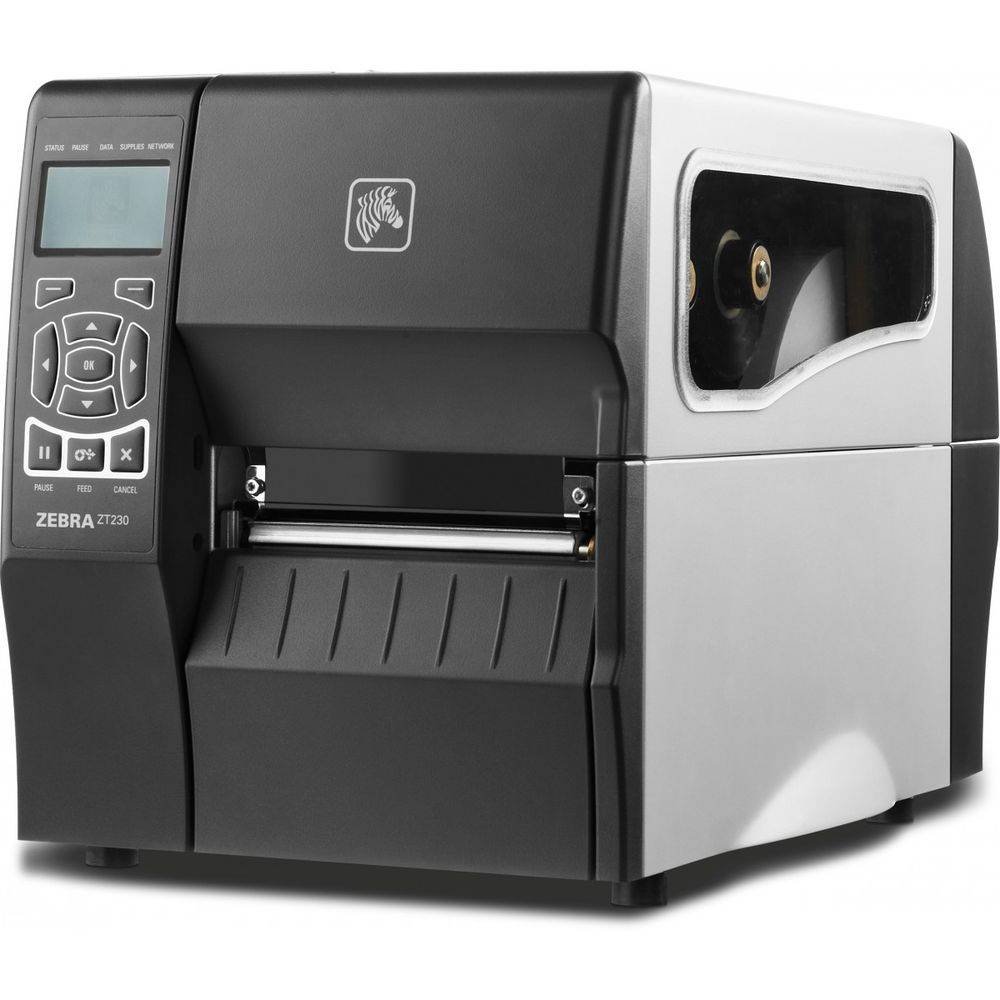 Description
ZEBRA ZT230, Standard ZT230 features include 4″ print width, Direct thermal print mode, 203 dpi, Tear bar, USB 2.0, RS-232 Serial, EPL 2 and ZPL II Programming Language, North America power cord.
Brand: Zebra
Model: ZT230
Part Number: ZT23042-D01000FZ
Product Type: Industrial Barcode Printer
The Zebra ZT230 Industrial Direct Thermal Tabletop Label Printer with metal frame which prints 4″ wide labels at 6″ per second and 203 dpi (8 dots/mm). An element energy equalizer (E3) and side-loading metal print mechanism with head open lock help to increase work efficiency. It has an LCD graphical user interface for reading and navigation and 128 MB Flash and 128 MB RAM for high throughput. Media sensors are transmissive and reflective to accommodate different label types including continuous, die-cut, notch, and black mark. Connection options include serial and USB 2.0.
Other part numbers for the Zebra ZT230: ZEB-ZT23042D01000FZ or ZT23042D01000FZ.
Why BCTP?
Barcode Trading Post focuses on providing a great customer experience with competitive prices. We carry one of the largest selections of used Zebra printers in the industry. Our selection of used barcode printers include everything from legacy and out-of-manufacture equipment to some of the latest AIDC technology.
The Barcode Trading Post certification includes functionality, cleanliness, and reliability. We certify each used printer to guarantee that you only get barcode printers that you can count on while also receiving a substantial savings. If you need other models or configurations, please fill out the form on this page. All products are available to ship quickly and come with a 90-day warranty. Extended warranties are available.
49 POINT INSPECTION

Buying used barcode products only makes sense if you are getting great quality barcode products at a fraction of the cost. With Barcode Trading Post you will refurbished barcode products that have gone through a rigorous inspection process.

CERTIFICATION

The Barcode Trading Post certification includes functionality, cleanliness, and reliability. We certify each used barcode product to guarantee you get only the best used barcode products.

WARRANTY + 30 DAY MONEY BACK

Barcode Trading Post is the low risk provider for used barcode products. When purchasing from BCTP you will feel confident that every product comes with a warranty and a money back guarantee.